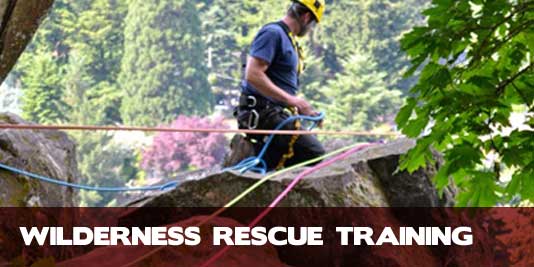 Wilderness Division
WILDERNESS FIRST AID OR WILDERNESS FIRST RESPONDER (WFR)
Our Wilderness First Aid courses will help you prepare for the unexpected. This fast paced, hands-on training is designed to meet the needs of trip leaders, camp staff, outdoor enthusiasts or anyone working in remote locations.
We will teach you to treat people who become ill or injured far away from definitive medical care.  Classroom lectures and demonstrations are combined with realistic scenarios where mock patients will challenge you to integrate your learning.
At the end of the course, you'll have the knowledge, skills and ability to make sound decisions in emergency situations in the backcountry. >>Register for this course
BACKCOUNTRY SURVIVAL
The ability to use skills and techniques to save yourself or others in dangerous, unpredictable situations while in remote areas.   This is a 16-hour, 2-day course with classroom lectures, actual case reviews and field-based training focused on building emergency shelters, basic navigation, signaling for help, finding water and emergency first aid care.
Our course is based on world-renowned survival training from the U.S Military and tips and techniques developed by our own instructors' extensive backcountry experiences and actual search and rescue missions.  Let us build a course for you.   >>Register for this course
BASIC AND ADVANCED NAVIGATION
Getting around from place to place and determining your exact position in an unfamiliar location is an Art.  We offer basic and advanced seminars in navigation using map and compasses or GPS devices. Our courses are suitable for outdoor adventurers of any experience level.  Courses include classroom lessons and practical, outdoor field training. >>Register for this course
SWIFT WATER RESCUE : SRT 1 & 2
Also called "whitewater rescue" is a subset of technical rescue dealing in whitewater river conditions. Due to the added pressure of moving water, swiftwater rescue involves the use of specially trained personnel, ropes and mechanical advantage systems that are often much more robust than those used in standard rope rescue.  This course is offered to river guides, recreational kayakers, Fire Departments or rescue professionals who provide this service, or anyone who works or plays on the rivers.  Our instructors are credentialed through Rescue 3 International – the worlds leading agency, and have over 20 years of swift water rescue experience and actual rescue missions. >>Register for this course